GNEMSDC 2023 Annual Meeting
February 9 @ 10:00 am

-

11:00 am
Join us at our 2023 Annual Meeting where our stakeholders will come together to learn how GNEMSDC MBEs and Corporate Members fared in 2022. We will also discuss how we plan to use innovation and resilience to navigate the coming year!
Featuring Donald R. Cravins, Jr., Undersecretary of Commerce for Minority Business Development (Minority Business Development Agency).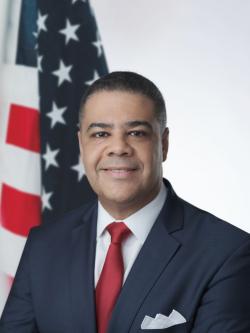 Under Secretary of Commerce for Minority Business Development
Mr. Donald "Don" R. Cravins, Jr. serves as the first Under Secretary of Commerce for Minority Business Development where he leads the Minority Business Development Agency (MBDA) in its service of the nation's 9.7 million minority business enterprises. After more than 52 years in existence, in 2021 President Biden signed the Minority Business Development Act of 2021 expanding and making permanent MBDA as the United States' newest federal agency. Under Secretary Cravins was unanimously confirmed by the United States Senate on August 4, 2022.

Mr. Cravins holds a Bachelor of Arts in Political Science from Louisiana State University and a Juris Doctor from the Southern University Law Center, where he served on the Law Review and the Moot Court Board. In 2004, he was elected to the Louisiana House of Representatives and in 2006 elected to the Louisiana State Senate. While in the Louisiana Legislature, he represented hundreds of businesses —many were minority-owned, and many located in rural communities. Following Hurricanes Katrina and Rita, Mr. Cravins served as a voice and champion for business owners, assisting with navigating the challenges related to recovery and rebuilding.

In January 2009, Mr. Cravins left the Louisiana Legislature to serve as Staff Director and Chief Counsel for the United States Senate Committee on Small Business and Entrepreneurship, where he played a vital role in the successful passage of the Small Business Jobs Act of 2010. In January 2013, he became the Chief of Staff to United States Senator Mary L. Landrieu of Louisiana. At that time, he was the only African American Chief of Staff in the United States Senate.

Since leaving the United States Senate in 2015, Mr. Cravins has served in key executive positions for some of America's largest non-profit and for-profit corporations, including the National Urban League where he most recently served as its Executive Vice President and Chief Operating Officer. As one of the Nation's preeminent Civil Rights Organizations, Mr. Cravins led the National Urban League's entrepreneurial initiatives and spearheaded its corporate Diversity, Equity, and Inclusion program.

In addition to serving as Under Secretary, Mr. Cravins is a United States Army Major in the District of Columbia Army National Guard Judge Advocate General (JAG) Corps. His awards and military decorations include two Meritorious Service Medals, three Army Commendation Medals, the Air Force Commendation Medal, and the Army Achievement Medal. He is also a Life Member of Alpha Phi Alpha Fraternity, Inc., a Life Member of The Rocks, Inc., and a member of the 100 Black Men of Prince George's County.

His honors include induction into the Southern University Law School Hall of Fame in 2018, recognition as a Distinguished Alumnus of Louisiana State University in 2015, and in 2020 he was named Advocate of the Year by the National Bar Association.

Under Secretary Cravins and his wife, Yvette Puckett Cravins, Esq., have three children and reside in Maryland.